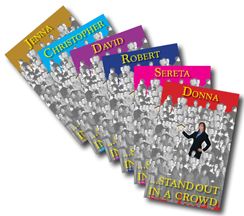 Variable Data Printing (VDP) is on-demand printing in which both text and image elements can be different on each piece. For example, a set of personalized direct mail postcards, each with the same basic layout, can be printed with a different name, photos, and other custom information directly in your marketing message! The more personalized the text and images are to your recipients, the more likely they will respond. Personalized marketing campaigns have been shown to as much as triple response rates. Examples of Personalized Pieces:
Postcards

Self-Mailers

Brochures

Letters

Statements and Invoices

Invitations
Increase your response rates by using one-to-one marketing offered by our Variable Data Printing services. Contact us today for an estimate.